Systemische transformatie
The local TRANSFORMATION to reach a systemic, global level. I will help to prototype legislation and local policy based on my practice. I will share my best and worse practices and be reflective on all processes.
A pattern to rethink the existing system, bottom up and poly-centric. A pattern to learn how to assess practices and transfer impact on a global scale.
The Common Good Matrix is an instrument that helps projects to investigate and validate their contribution to society. The matrix evaluates and measures the impact of the project on people, environment and society. It shows the results in a clear, transparent and comparable way. The Common Good Matrix is developed by the Economy for the Common Good movement. This movement strives for a system transformation of the current economic system towards a partipatory and democratic new economy. The new model is based on values such as humanity, collaboration, sustainability, social justice, solidarity and participation. An economic model that brings welbeing for everyone and not only the happy few in a way that regenerates and takes care of our planet for the next generations to come.
In order to enlarge and develop a shared impact, the community of ecogood-coaches keeps track of transformations and organises action for change where needed based on a poly-centric network of energy fields.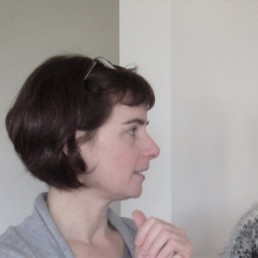 Karla Schimmel – Common Good Balance Coach
Karla will guide your team in developing and using your own audit based on the Common Good Matrix.